Fish

with
Nathan Outlaw

Part 1/2
Nathans background in fish, seasonality, quotas and the price of fish

I sit down to talk all things fishy with a man who carries the crown, two Michelin star and fish lover Nathan Outlaw.

Remember your dad on a Sunday morning eating an old kipper? It would bloody stink the whole house out. I'm here to discuss the fish-eating habits of Britain and how the fishing industry is much more, beyond that piece of fish on the plate.

I've driven overnight from London, slept in what I thought was a quiet spot, but turns out while the condensation drips down over my shitty self-made bed, I am in a driveway, and they want me and my car out the way. Bleary-eyed and slapped around the face by the oddity of fresh air, after a 6-hour drive in the rain, its blue, blue everywhere.

I like fish; I didn't when I was little, I still remember moving tables away from my father in hillside Spanish restaurants when he ordered the local fish dish. (I called my father and asked what that fish was, he said he thinks it was a fish stew with god knows what. He liked it.) I cook with all kinds now, one of those new millennials that want to know and do everything I suppose. My assumptions here, many people still think fish is smelly, no idea how to cook it and anything in a tin, is well, probably from the war.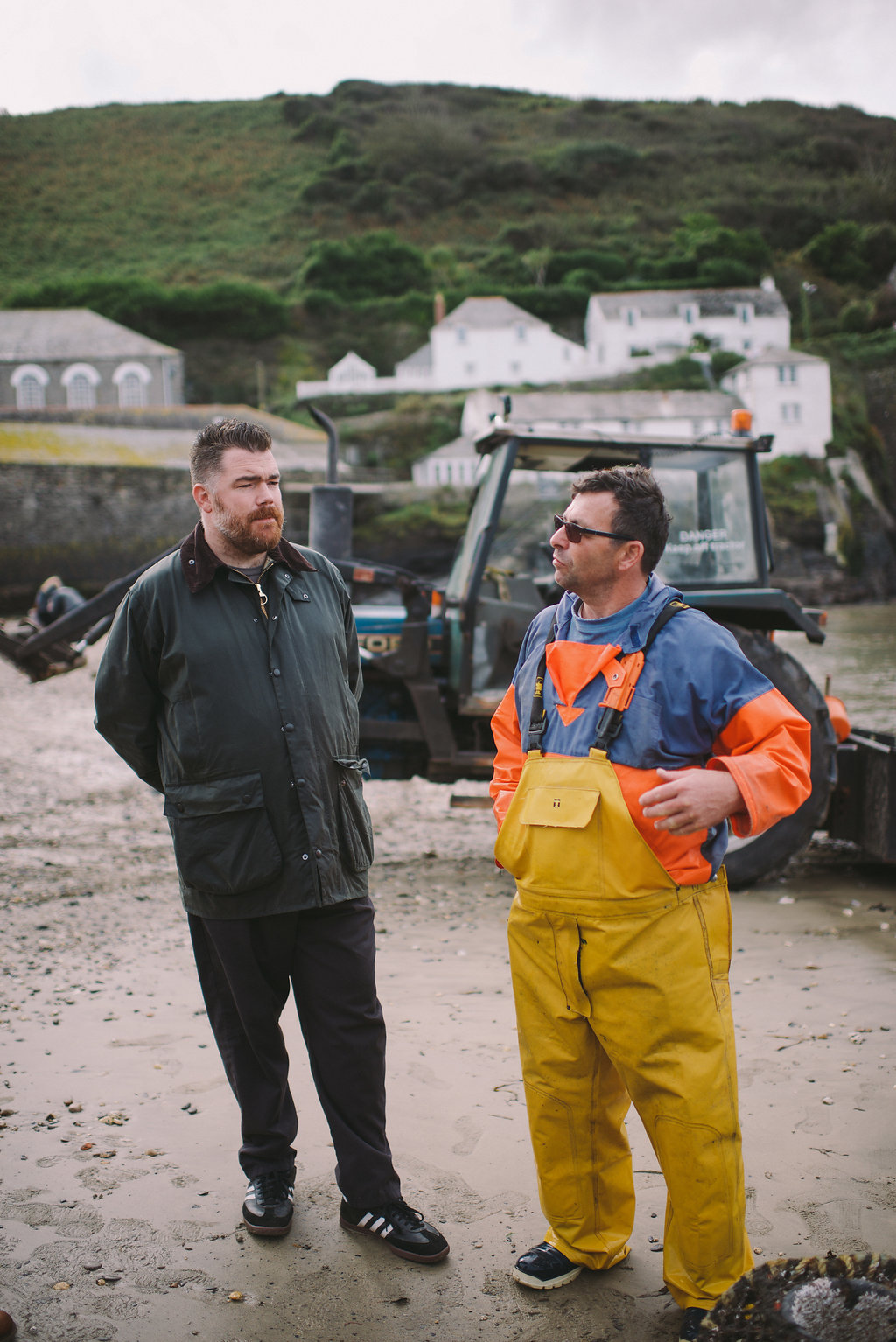 My wife and her family introduced fish to me more recently as keen goers of the sea. Whether locally caught crab or lobster (which isn't half cheaper outside the city), drinking and dancing on table tops later, or a whole flat fish shared over the counter, something about being at sea just helps the cause of eating and enjoying it.
"We are an island surrounded by what I believe is the best seafood in the world"
From a restaurant point of view, Nathan explains, that they get a lot of people through the doors who are experiencing fish for the first time (Christ, what did they ever eat next?) mainly because of recommendations or reviews. They have the theory, by trying the UK's number 1 restaurant (Good Food Guide 2018) they are either going to like fish, or are never going to like fish. It's a fish restaurant only, so losing customers when partners refuse to eat fish is common, but it's practice served since birth. Nathan says "I set this up to serve the best possible seafood I can get my hands on".

Ironically Nathan's mother doesn't eat fish. Reason? School dinners, bad experiences when she was a kid, the smell, the BONES, eyes and faces, fins, everything. Nathan believes "it's a cultural thing, we in Britain have not embraced fish, madly we are an island surrounded by what I believe is the best seafood in the world". Travelling the world, yes Japan is very high up there but "the difference is they know how to look after the fish, the fishermen have massive respect, and the market and the customers. Where here it is a commodity, people/fishermen would have evolved to catch as much fish as they can, bring it to shore, stick it on the market, go to the pub, and wait until it's sold and then go back and collect their money". Now that is something they cannot afford to do, with smaller quotas, targeting specific species, not as many fish and they have to be businessmen and in particular more ethical.
Regarding eating fish, Nathan thinks it lies with the cultural ingrained of the unknown. For example, take British school canteens, "I don't know, but I don't think there are any in this country that serve fresh fish". Before the war, Nathan floats the idea that fish consumption was a lot higher. Fishmongers were everywhere, most villages and towns had more than one. But I remember reading a

Guardian Opinion

piece about our optimism for the sea after the war, that never-ending vat of food called the ocean and how we increased our diet. A study by The National Survey (NFS) and Expenditure and Food Survey (EFS) confirmed this back in 2012 showing per-head consumption of fish was around two percent higher than in 1975, according to a report commissioned by Sainsbury's in association with the Future Foundation.

The price, is a fishmonger expensive? Or do us, commoners, just know so little we assume it is.
"Fishermen are the worst people for asking for help."
"There used to be certain species of fish that were a bargain, dirt cheap, your mackerel, herring, sardines, cod and any other white fish. Things like turbot and lobsters have always been expensive, purely because the way they are caught". What does Nathan mean? "You don't catch as many, a lobster fisherman (we will meet Callum later on) may put as many as 500 pots out, which sounds a lot", it's nothing if you think about 'pot luck'. He will lift dozens and dozens with nothing in it, and it is no easy job, especially when you are out there on your own, the sea is that unforgiving father-in-law you wish you never had.

The risk of going out to sea alone is not worth it when the weather is not smiling. It is a perilous profession, particularly on the North Coast. With all that in mind, with pricing takes all the risk, luck and availability. Nathan notes, "pickled herring is one of the best things ever, and that would have been so cheap as they smell when old and least popular". Sardines on the bbq, or when spider crabs come in, sometimes mixed with a few hen crabs, they come in their droves. Whole armies. They then mate, and "then you could quite literally lift them out of the water as they are all knackered from shagging so much". Then they disappear like they were never there. That's the seasonality here.





Lobster season is more about the safety of the fishermen, they are there all the time, but if it's rough seas, then it's a no go. In September the oily fish make an appearance, good mackerel, herring. Everything the restaurant serves here is from Cornish boats, it limits the kitchen sometimes, but this is a very non-stereotype Michelin experience. Langoustines you ask? "We just don't do them because no one is catching them in Cornwall". The odd Scottish boat will come down, as the majority of Cornish don't have the equipment or capability of catching langoustines. They are there.

Right outside the restaurant, there are scallops, but you cannot dredge there, "no one has the balls to dive here as it's quite dangerous, so for me it is very frustrating". In the bay opposite the restaurant, all the crabs are caught, five boats in there are crabbers. They will also bi-catch mackerel, bass, cuttlefish when in season, a bit of squid and red mullet.