Aptly named Native is the subject of a
sudden relocation. Part of the trend of
young start-ups going from idea, farmers
markets, supper clubs, street pop-ups
and into a fully fledged restaurant



Aptly named Native is the subject of a sudden relocation. Part of the trend of young start-ups going from idea, farmers markets, supper clubs, street pop-ups and into a fully fledged restaurant. You'd find a good handful of these in Seven Dials amongst the good coffee, haunts of selfie-loving tourists, a cheap haircut or massage and some decent cheese.

A cultural gem? When only a few years ago it was merely a place for actors to sneak away for a cigarette or bad Italian pizzerias amongst the ever-changing retail layout of the ever expensive Neal St (Shaftesbury Av) it is now a vibrant, exploding space full of bright colour and energy.

Well, no, the residents are not fans, and when extensions were promised, the unknown and dreaded message came forth, 'your lease is not being renewed', you need to be out within a month, what do you do?

Not fun for a restaurant started by two people (Imogen and Ivan are the co-founders of Native) whose experience in the industry was zero, two years later had an award-winning, packed and jolly good jaunt (we won't mention the governments lack of help here, with young or even start up teams, ever so quick with the tax bill, ever so bloody ghostly when actual help is needed).

With a heavy heart Native leave Neals Yard one week and sets up camp the very next in London Bridge. (Sadly it seems more may follow)



We often browse restaurant menus, ram our eyes full of social comments and pictures, judge everything from the tables balance and whether the chairs are comfy, is dad happy? are the lights too dark? Can you hear me over there? Excuse me can I get a picture? Uhhh this wine is corked… but with our appetite for an opinion which is born from our past experiences and the indigestible and forgettable world wide web, we sit and discuss every element of dinner, but do we truly appreciate the work that goes into this?


We judge and make comment. We walk out of places for lousy service, praise great food to the waiter but not the chef, tip the staff but see it goes the company. Panic when the bread basket is taken away, feel ashamed when a dinner guest complains (or if British, don't criticise and grumble for days after) and occasionally actually praise a restaurant. It is ingrained in us, humans, the need for negativity, but it is also the need to take pleasure in food and enjoy community and company, with good and simple food.


So, reclaimed by the locals and driven out of town, does one merely find a new nest or the more deadly get swallowed up by the sheer volume of the system and become extinct. Thankfully not the latter.

If we think about this journey like organising a group hike; what do we pack, need to buy, where do we stay, how do we get there, still never quite knowing what will happen when we do, if we do and what the environment and surroundings will be like. You will never please everybody, and it is a reminder that one has to focus on one's story and creative output that drives the passion and hold onto it so dearly.
To get into the bare bones of it all, I pick Imogen's
brain an hour before opening on the first night and a couple of days after.
'born from our past experiences and the indigestible and forgettable world wide web, we sit and discuss every element of dinner, but do we truly appreciate the work that goes into it?'
Wye Valley Asparagus, Graceburn Feta,
Pickled Walnut, Cured Egg Yolk

How did Native start and can you take what you built to a brand new space?

'All the team stayed with us for the move; we needed to open up the new place within two weeks to survive. That includes clearing out the old site'. Imogen says 'it was an organic growth neither of us had the intention of opening a restaurant; it grew into that before we knew what we were doing. We were approved for Neals yard, but it took 18 months before we got in there. At the end of every month, they kept saying it would happen the following. We were received well, Jay Rayner popping in on day 5 of the soft launch, I had tears coming out my eyes, as you could close us down.'

The power of the food critic seemed to be dwindling, but it is firmly back in their hands in an age of fake news and truth. For all the blogging and influencers, the one thing you can be assured with is the truth when a food critic writes. Coming back with a vengeance? Its a predator to fear and when you have your staff, taxes, customers and taxes to file, unfortunately, they are the siblings to protect.

Imogen explains 'educating people about ingredients we are excited about, that we did not know. All of that is a process that we've loved being involved in.' This is the foundation of Native and how they can keep the culture going.



Comparisons to the first week in Neals Yard to here:

'Size, but also the people. I loved Neals Yard, but the neighbours here, from residents to workers are flowing in with welcomes and eating away.' I'm not surprised, Neals Yard is a tourist spot for selfies, and on the corner of Borough Market, it is a visible food paradise where its a more welcomed subject.

Planning & Landlords

The space is run by the owners of Flat Iron across the road; it is an old warehouse type that has lived abandoned for 20 years or so. Rents usually require a significant chunky deposit and lengthily lease, but here its a better deal and one that works for Native. Its welcomed support in an old industry. Initially Native had the choice to be whatever they wanted. Imogen talks about A1, A2, A3's*; I don't pretend to know what she is talking about. These are industry specifics for the type of restaurant you can be within your lease. Native had the choice to be what they wanted and told the contract was always available. The new venue has the essence of an ethereal ceiling that could cloud over any second or let the light in the other. Upstairs is vacant and looks likely to be another restaurant. Its an equilibrium of actions to handle but at least they have Bread Aheads doughnuts to break free for 5 minutes when they can.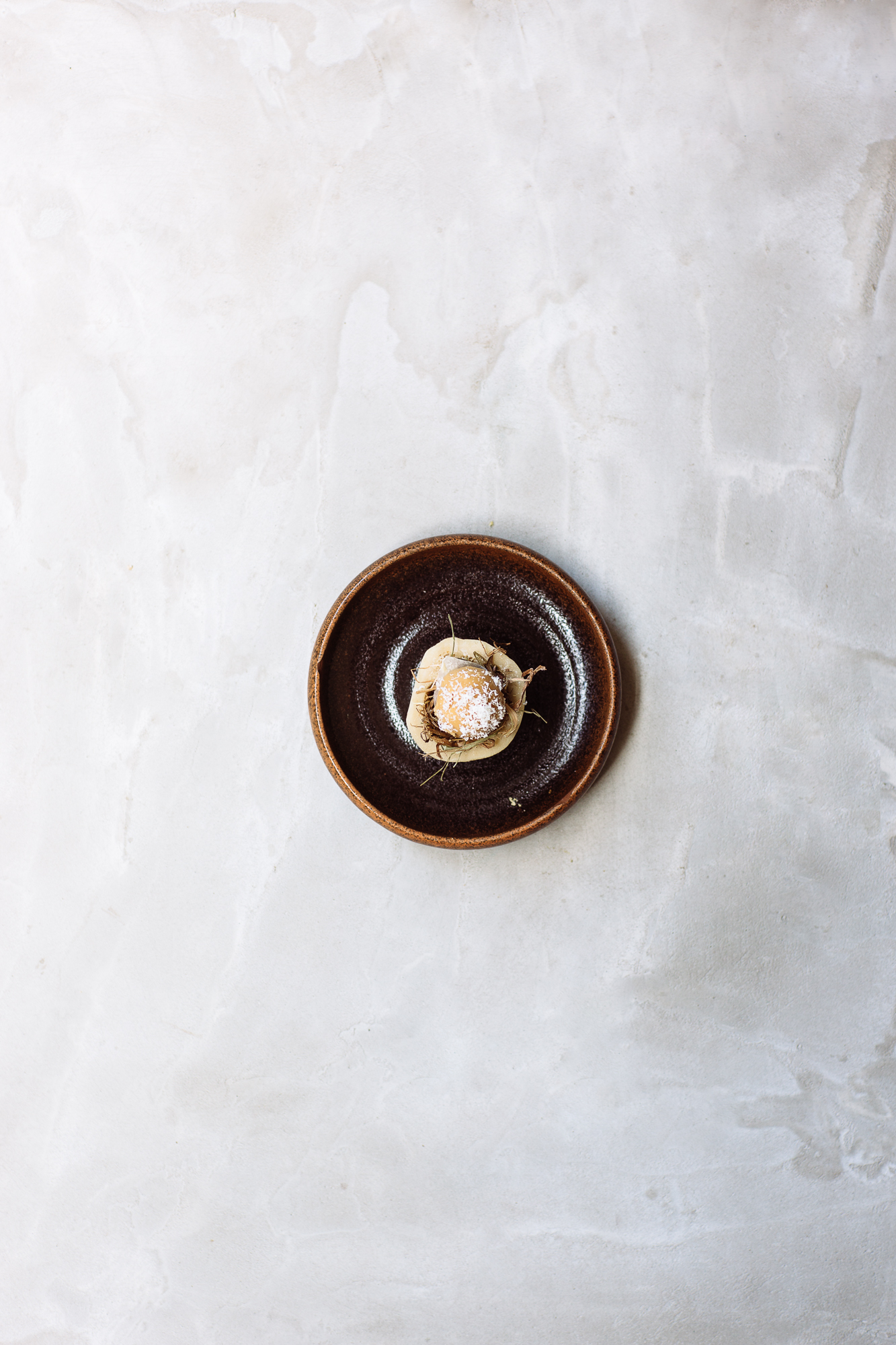 "Marrowmel"
Bone Marrow & White Chocolate Caramel
How do you set up a new camp?

It was one week in the old place, clearing out and setting up the new one the next. Imogen explains 'we still didn't have any chairs on opening night until my sister made a trip to Peterborough'. I find it hard to believe, but Imogen didn't just go for anything, delving through several chairs until landing on a choice, her dad then brought the horse box of chairs down hours before opening. Imogen and the staff had been making the tables that morning, the kitchen prepping for the first time with space and a new environment, having spent the last two weeks unpaid and covered in dust and fed on a passion for family and preservation. It's in the bad times the good prevail.

A bigger space, so where do you look for help?

As most of us would, with family and friends. It is to no surprise there is already a warmth to the new space, and several old neighbours and lots new drop in to say hello and see how things are going. It is a testament to what Native have installed. This all started with Imogen's upbringing. Rarely going out for meals, but eating with her six siblings and focusing on what was around them. They lived in the middle of nowhere and where keen game lovers. Ivan, the opposite, had no experience of this lifestyle and living off a one -recipe chilli con carne. Imogen and Ivan met at university and Brighton, here Imogen started introducing Ivan to foraging and seasonality, taking meals with family and enjoying the pleasure of food.

How did you find the place?

Imogen explains 'through conversations. One of our chef's (Hector) dads friends is friends with our new landlord. So we discussed what we were planning and what we would like to do, and they got on board. The big green egg has an excellent new home. It looks lost in there as its so big. An ostrich to a little quails egg.'

What numbers were in the inventory? Facilities? New kitchen?

Tom Sellers had a pop up for a month here while he renovated Restaurant Story and they installed the current kitchen and without that, it would not have been possible.

A small successful team, was there big backers or was this groundbreaking efforts from within?

Kickstarter is a flip of a coin but they jumped into it, raising a whopping 50k in funding from the public to not only survive but expand and open minds to new Native experiences.

25 to 60 seats, what does that mean? From the staff to equipment
A bigger kitchen, change in menu?


'Sticking to seasonality but with tasting menus, and a bigger bar, and beer on tap.' Space offers Native the environment to experiment and open minds.

The new venue has the essence of an ethereal ceiling that could cloud over any second or let the light in the other
What will be the biggest challenge is as they say themselves 'In tiny Neal's Yard we proved that we could create incredible, award-winning food in a challenging space. We now have the opportunity to move into a fully functioning kitchen, restaurant and bar, and are ready to show you what else we have in store. The sky is the limit!'.


Imogen casts a spell of strength, stamina and freedom upon the hustling spontaneity of week one and I am keen to see the future results. They must maintain and take the confidence of an idea that strived so well, within chaos and limitations (it was bloody tiny in there) and build a new community south of the river. It is both exciting and free. Good luck.
Native

|
32 Southwark St, London SE1 1TU
*


• A1 is used for shops and covers the sale of cold foods for consumption off-premises.
• A2 is for professional services. This is mainly offices.
• A3 is for restaurants and cafés where hot food is consumed on the premises.
• A4 licenses cover drinking establishments: public houses, bars, etc.
• A5 covers hot food takeaways
Original source